Increasing concerns over Ketamine use
July 01, 2020
Sacpa has recently been approached by Drugsline Education in response to an increase in calls from pastoral staff, parents and young people regarding Ketamine, a horse tranquiliser that is also abused as a recreational drug. Drugline Education have put together some information to increase awareness of the recreational use of Ketamine and support in the possible detection of misuse.
Signs of Ketamine Abuse
Ketamine is a dissociative tranquilizer used mostly in the veterinary field as an anaesthetic but is also abused as a recreational club drug. Ketamine is classified as a hallucinogen. This means that when abused, Ketamine has powerful hallucinogenic properties that cause the user to feel detached from reality and can cause highly unpredictable results. Ketamine affects people very differently and there is no way to know which dosage level could be dangerous.
Abusing Ketamine often leads to a psychological dependence. Over time, the user develops a tolerance, meaning they have to take more to get the same effects.
The Dangers of Ketamine
Ketamine is a Class B drug, making it illegal for recreational use. Class B drugs are likely to cause psychological dependence and may cause physical dependence. When someone uses the drug recreationally, they may experience serious side effects, such as:
Redness of the skin
Slurred speech
Depression
Rapid eye movements
Insomnia
Irritability
Loss of coordination
Disorientation
Respiratory distress
Nausea and vomiting
Psychotic episodes and hallucinations
Slowed movement
Impaired cognitive function
Numbness
Elevated heart rate and blood pressure
Slurred speech
Impaired judgment
Impaired motor function
Distorted perceptions of sight and sound.
Bladder damage is common in Ketamine addicts. 25% of Ketamine users report pain related to emptying their bladder, the urine often containing blood. Even users who only take Ketamine occasionally report the sensation of "ket cramps," or pain while urinating due to the abrasive nature of the chemicals passing through their kidneys and urinary tract. In only months of heavy use, the bladder is often destroyed.
When Ketamine is abused for an extended period of time, these side effects can last well over a year. Brain damage and impaired cognitive function can be permanent, as can kidney damage. Respiratory failure and increased heart rate can result in death.
Source: Drugsline Education.
---
IICSA research: child sexual abuse in sports
June 18, 2020
IICSA (The Independent Inquiry into Child Sexual Abuse) has published new research into child sexual abuse in sports, which finds that coaches and instructors exploited children's vulnerabilities in order to groom and abuse them. Click here to read the research…
This report is written as part of the Truth Project, a core part of the Inquiry alongside public hearings and research. It was set up to hear and learn from the experiences of victims and survivors of child sexual abuse in England and Wales. It offers victims and survivors an opportunity to share experiences of child sexual abuse.
The report used the term 'sports contexts' to describe environments and situations where children and young people take part in organised sports activities (including alongside adult participants), for example in sports clubs, sports institutions or sports associations or where they
participate in sporting activity in a sporting or leisure location (for example, a public swimming pool) and the perpetrator works or volunteers there (for example, a leisure centre worker or swimming pool lifeguard).
The report presents the Inquiry's research findings about experiences of victims and survivors of child sexual abuse in sports and the response of institutions to such abuse. It describes the experiences of Truth Project participants sexually abused in sports contexts between the 1950s and 2010s, with the most recent cases in our sample beginning in the early 2010s. The research findings included in this report do not reflect all experiences of sexual abuse in sports contexts and are only indicative of the specific experiences of those who chose to share their experiences with the Truth Project.
---
England: Keeping Children Safe in Education – September 2020
June 18, 2020. 
The September 2020 revision of 'Keeping children safe in education (KCSIE): statutory guidance for schools and colleges' has been released.
In addition to the usual series of updates, it specifically refers to the guidance  COVID-19: safeguarding in schools, colleges and other providers, and stresses the fact that a school's full safeguarding duties continue throughout the pandemic and beyond.
Annexe H of KCSIE contains a full schedule of changes from the September 2019 version. Updates include several new paragraphs on mental health, making it clear that both the mental and physical health of children are relevant to safeguarding and welfare. There are also updates to information on contextual safeguarding, GDPR and online safety including when learning at home. The guidance also updates references to the RSHE curriculum from September 2020, management of allegations, domestic abuse, CSE, child criminal exploitation, preventing radicalisation and County Lines. The guidance also explains a change on terminology from honour-based violence to honour-based abuse, to recognise non-violent forms of abuse.
Click here to view the updated guidance.
Please note this guidance will come into force on 1 September 2020 and at that point KCSIE 2019 will be withdrawn. Until then schools and colleges must continue to use KCSIE 2019.
---
Universities Minister announces mental health support for students
June 17, 2020
Universities Minister, Michelle Donelan, talks to HEPI about the impact of Covid-19 on the sector and mental health support for students during this time. Click here to read more…
---
Independent Anti-Slavery Commissioner report
June 17, 2020
Operation Fort – What businesses should learn from the UK's largest anti-slavery prosecution. Click here to read the report…
---
England: What Ofsted means by a serious incident
June 17, 2020
Guidance for social care providers on what is meant by a serious incident.
The Oxford English Dictionary defines 'serious' as: 'significant or worrying because of possible danger or risk; not slight or negligible'. The line between what is serious, and what is not, can be blurred and is always a matter of judgement. It depends on many factors, including age of the child, frequency of the incident, injuries sustained, any additional needs the child has, the context of the home and so on. In some instances, the cumulative effect of frequent incidents may make a notification appropriate even if in isolation each event would not warrant this.
Notifying Ofsted of a serious event
The intention of Regulation 40 in the Children's Homes (England) Regulations 2015 is to focus providers on only sharing information with Ofsted, as the regulator, about the most serious incidents. Click here to read more…
---
Vulnerable Children National Charities Strategic Relief Fund
June 16, 2020
Updated guidance: Earlier this year, the government announced a package of £750M of support for the voluntary, community and social enterprise (VCSE) organisations during the coronavirus (COVID-19) outbreak. Funding has been allocated to the Department of Education and the Home Office in order to support charities working to safeguard vulnerable children.
Overall aim of funding:
Keeping vulnerable children safe during coronavirus (COVID-19) is our urgent priority. The Vulnerable Children National Charities Strategic Relief Fund is to provide relief to national children's charities that provide services to safeguard vulnerable children and that have financially suffered due to the impact of coronavirus (COVID-19). The £7.6m fund is aimed at large, national VCSEs and fits alongside a range of government and other support, including the National Lottery coronavirus (COVID-19) community fund which supports small and medium-sized VCSEs.
As a result of coronavirus (COVID-19) and its impact, many of these risks to vulnerable young people will have been heightened. In recognition of this heightened risk, this funding aims to ensure national charities can continue to provide or enhance services that safeguard children and protect them from harm, including from risks and threats:
from child sexual exploitation and abuse
serious violence
criminal exploitation (including county lines)
peer/relationship abuse
online harm and substance abuse
Charities may also support children and young people at higher risk of becoming not in education, employment or training (NEET), disengaging from education and experiencing wider wellbeing issues.
---
Scotland: Action against inequality
Understanding impact of COVID-19 on ethnic minorities.
A new expert group will work with the Scottish Government to provide a clearer picture of the impact on minority ethnic communities of coronavirus (COVID-19).
Following indications that minority ethnic communities may face higher risks from COVID-19, the group will consider evidence and data being gathered by the Scottish Government, Public Health Scotland, National Records of Scotland and the NHS, and advise on policy actions to mitigate any disproportionate effects.
As part of its immediate response to the pandemic, the Scottish Government has provided more than £500,000 to organisations working specifically with minority ethnic communities across Scotland. Click here to read more…
---
England: Extra mental health support for pupils and teachers
June 7, 2020
Online resources and charity grants to help schools and colleges respond to the impact of coronavirus on mental health and wellbeing.
New online resources designed by health and education experts will be provided to schools and colleges to boost mental health support for staff and pupils, encouraging them to talk more confidently about the anxieties and concerns they feel as a result of the coronavirus pandemic. Click here to read more…
---
Official Sacpa launch at BSA Annual Conference in Bristol
January 29, 2020
On January 29 2020, Sacpa launched officially at the BSA Annual Conference for Deputy Heads & Heads of Boarding where many attendees are also DSL/DDSL.
Sacpa Chair, Dr Steve Bailey, shared that there is a clear need to try and bring together all those involved in safeguarding to support them. Aileen Kane, Sacpa Director, added that the calls for support from outside the boarding sector have been huge. Sacpa is an opportunity for everyone involved in child protection and safeguarding to be involved. She added "We want to make sure children are safer and hope you will work with us on that".
For more information on Sacpa membership, click here.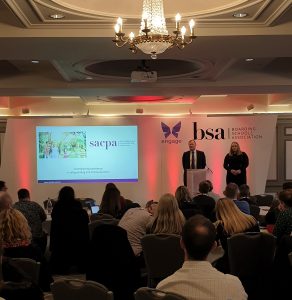 ---
People 'at risk' because of UK's 'patchwork' approach to safeguarding and child protection
January 29, 2020
A 'patchwork' approach to safeguarding and child protection across the UK puts people at risk, according to a new national body.
Sacpa (Safeguarding and Child Protection Association) claims there are 'significant differences' in policies and systems between local authorities and the English, Welsh and Scottish governments.
Director Aileen Kane said: "There are 326 local authorities in England, 22 in Wales, 32 in Scotland and 11 in Northern Ireland and there are literally dozens of different NHS health trusts – each with their own safeguarding and child protection policies and systems.
"In every national region of the UK there are also different rules and regulations, a patchwork situation where varying approaches effectively put people at risk, as well as confusing the public and practitioners."
The UK needs a 'Safeguarding and Child Protection Tsar', claims Sacpa, and someone in each government at cabinet level with specific responsibility for the subject area.
"As a new body representing anyone working in safeguarding and child protection, one of our first actions will be to write to the Prime Minister and the first ministers of Scotland and Wales to outline our concerns and suggestions for improvements.

"Changing the way things work will inevitably be hard and take time but ultimately people will not be safer unless there is a simpler, clearer and more joined up way of working."
Launched in October 2019, Sacpa is the first UK and international membership association for professionals or volunteers working in safeguarding and child protection.
Sacpa Chair, Dr Steve Bailey said: "Sacpa provides a unique opportunity to represent safeguarding professionals working with children and young adults. The association brings together a unique blend of educational organisations, voluntary bodies and charities, and looks forward to working with government to improve the welfare and safety of children and vulnerable adults."
ENDS
Sacpa is based in London and is part of the BSA Group, which also includes the Boarding Schools' Association. Sacpa services include an online policy hub, guidance, advice, training, forums and an annual conference.
For more information, visit www.sacpa.org.uk or contact Director, Aileen Kane via aileen.kane@sacpa.org.uk.
---
Sacpa 'guide to safeguarding' launched
January 21, 2020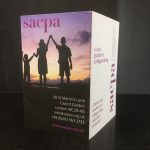 Sacpa (safeguarding and child protection association) has launched a pocket-sized guide to safeguarding and accompanying guidance for members.
The guidance covers what to do it members have a concern about a child, young person or adult and covers issues around an individual's physical, sexual or emotional well-being.
Please click here to read the full guidance and if you would like to order copies of the 'guide to safeguarding' for your organisation, please click here.