Webinar: What's new – Drugs and alcohol
18 January @ 2:00 pm

-

3:00 pm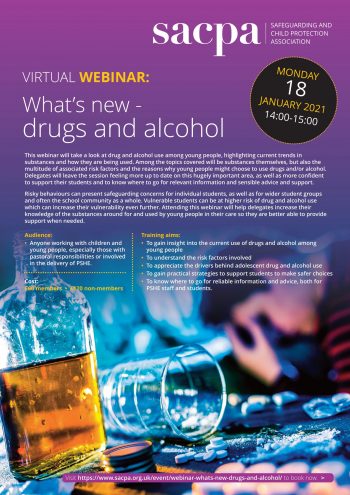 This webinar will take a look at drug and alcohol use among young people, highlighting current trends in substances and how they are being used. Among the topics covered will be substances themselves, but also the multitude of associated risk factors and the reasons why young people might choose to use drugs and/or alcohol. Delegates will leave the session feeling more up to date on this hugely important area, as well as more confident to support their students and to know where to go for relevant information and sensible advice and support.
Risky behaviours can present safeguarding concerns for individual students, as well as for wider student groups and often the school community as a whole. Vulnerable students can be at higher risk of drug and alcohol use which can increase their vulnerability even further. Attending this webinar will help delegates increase their knowledge of the substances around for and used by young people in their care so they are better able to provide support when needed.
Audience:
Anyone working with children and young people, especially those with pastoral responsibilities or involved in the delivery of PSHE.
Training aims:
To gain insight into the current use of drugs and alcohol among young people
To understand the risk factors involved
To appreciate the drivers behind adolescent drug and alcohol use
To gain practical strategies to support students to make safer choices
To know where to go for reliable information and advice, both for PSHE staff and students.
Member rate: £60
Non-member rate: £120*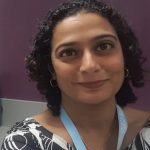 Webinar host: Asha Fowells, Drugs Educator, Daniel Spargo-Mabbs Foundation
Asha Fowells is a drugs educator at the Daniel Spargo-Mabbs Foundation, a drugs and education charity which aims to support young people to make safer choices about drugs through an evidence-based, multi-component approach. A pharmacist by background, with a passion for community and public health, Asha is currently working as a journalist in the pharmacy sector alongside her role at the DSM Foundation, as well as being Chair of Governors at her local primary school. She will provide a valuable insight into the current context for young people in relation to drugs and alcohol.