Webinar: Safeguarding and trans support
22 June @ 12:00 PM

-

1:00 PM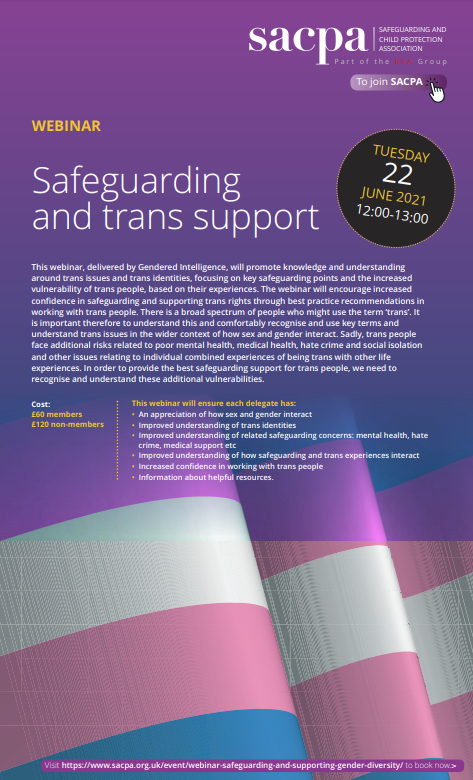 This webinar, delivered by Gendered Intelligence, will promote knowledge and understanding around trans issues and trans identities, focusing on key safeguarding points and the increased vulnerability of trans people, based on their experiences. The webinar will encourage increased confidence in safeguarding and supporting trans rights through best practice recommendations in working with trans people.
There is a broad spectrum of people who might use the term 'trans'. It is important therefore to understand this and comfortably recognise and use key terms and understand trans issues in the wider context of how sex and gender interact. Sadly, trans people face additional risks related to poor mental health, medical health, hate crime and social isolation and other issues relating to individual combined experiences of being trans with other life experiences. In order to provide the best safeguarding support for trans people, we need to recognise and understand these additional vulnerabilities.
This webinar will ensure each delegate has:
An appreciation of how sex and gender interact
Improved understanding of trans identities
Improved understanding of related safeguarding concerns: mental health, hate crime, medical support etc
Improved understanding of how safeguarding and trans experiences interact
Increased confidence in working with trans people
Information about helpful resources.
This webinar will not be recorded.
Member rate: £60
Non-member rate: £120*

Speaker: Gendered Intelligence Trainer/Consultant