Webinar: What's new – Online safety update
6th October 2020 @ 10:00 am

-

11:00 am
More and more of our dealings with people, businesses, even education now takes place online. With that in mind, staying current with what's new online, especially for children and teens, and the associated risks and safety guidance is of vital importance.
Research is showing that children and young people are spending increasing amounts of time online – the pandemic has only served to exacerbate this. It is impossible to talk about safeguarding today without talking about the digital/online aspect of that. Many of us still talk about online v offline but children and young people don't – this is their world and we have to have some understanding of it if we are to help them to navigate it safely. In this post-lockdown period we are expecting many young people to disclose problems and challenges that they have faced in the past couple of months and schools and other professionals need to be ready to react and respond.
Karl Hopwood, an esafety expert who works with professionals and young people to promote digital literacy and safer online behaviours will present what's new in online safety for adults working with young people to be aware of. The session will make sure that you are as up to date as possible with latest developments in a fast moving space and will share what we actually know about the challenges children and young people are facing online as well as the benefits they have from using tech.
Training aims:
Overview of the current state of play with online safety
What impact has the COVID-19 situation had?
What are young people doing online, what has changed?
What are the latest apps to look out for?
Latest updates for schools from government, and latest resources
What should the priorities be in this post-lockdown phase?
Cost:
Member rate: £50
Non-member rate: £100*
Webinar host: Karl Hopwood, independent esafety expert, UK Safer Internet Centre advisory board and Sacpa advisory board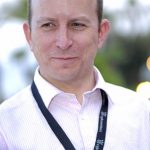 Karl is an independent esafety expert. He is a member of UKCCIS (UK Council for Child Internet Safety) and sits on the UKCCIS evidence group and education working group as well as on the advisory board for the UK Safer Internet Centre, the education advisory board for CEOP and Sacpa's Advisory Board. He also sits on Twitter's trust and safety council where he represents the Insafe network.
Karl has worked for a number of key players in the UK and abroad including CEOP (Child Exploitation and Online Protection Centre), BECTA (British Educational and Communications Technology Agency), the European Commission, the UN and several Local Authorities within the UK and in Europe. As an ex-primary headteacher, he continues to work closely in schools across Europe with children, young people, parents and teachers to develop safer online behaviours and the promotion of digital literacy.
Karl has been employed for the last 13 years as an in-house consultant for INSAFE which is the coordinating node of the EU Better Internet for Kids programme where he is responsible for the coordination of safer internet helplines across Europe.