IWF warns full effects of lockdown are only now becoming apparent as younger children are groomed into sexual abuse online.
Imagery of primary school aged children being coached to perform sexual acts online has soared by more than 1,000 per cent since the UK went into lockdown during the pandemic, new data shows.
The Internet Watch Foundation (IWF) says, since 2019, it has seen a 1,058 per cent increase in the number of webpages showing sexual abuse images and videos of children aged 7-10 who have been recorded via an internet connected device, often by a predator who has contacted them online.
The IWF is the UK organisation which tracks down videos and imagery of child sexual abuse online and works to have it removed.
The charity warns the pandemic saw thousands of children relying on the internet to learn, socialise, and play – something which internet predators have exploited to coerce more children into sexual activities, and sometimes even including their friends or siblings, over internet-connected webcams and smartphones.
"During the pandemic, the internet was a lifeline. But we are only now unpacking the full effects. What is clear to us is that younger children are being pulled into abusive situations by rapacious predators, often while they are in their own bedrooms.
"Their parents are often unaware there is this online backdoor into their homes which is leaving their children vulnerable. I fear this could be the tip of the iceberg."
Data published by the IWF today (January 27) shows:
In 2022, 63,050 reports related to imagery which had been created of children aged 7-10 who, in many cases, had been groomed, coerced, or tricked into performing sexual acts on camera by an online predator.
This is a 129 per cent increase on the 27,550 reports in this category in 2021.
The 2022 figures are a 1,058 per cent increase on the 5,443 such reports in 2019 before the outbreak of Coronavirus.
Of the imagery made of 7-10 year olds in this way in 2022, 14 per cent (8,930 URLs) contained Category A material. This is the most severe kind of material and can include penetrative sexual activity, images involving sexual activity with an animal, or sadism.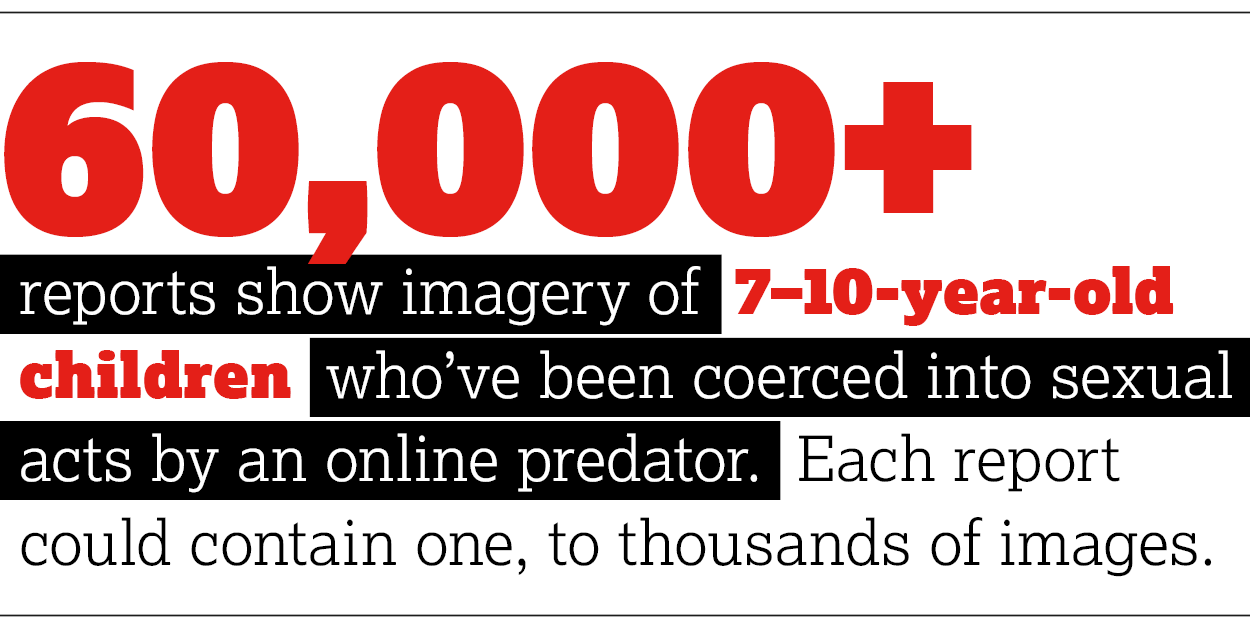 Ms Hargreaves added: "The Independent Inquiry into Child Sexual Abuse recently concluded that children must be given a greater priority in public life, and I agree.
"We must now see national leadership from Government at the highest possible levels that brings together health, education, and public protection to ensure that the failures identified by the inquiry never happen again.
"We must act now to ensure the growth we are seeing in this problem does not become endemic. This includes continuing to invest in programmes and prevention strategies that prevent children from becoming victims of child sexual abuse, protect the public from predators and the pursuit of bringing offenders to justice."
The disturbing nature of the grooming and coercion that children are subjected to online has been exposed by IWF analysts whose job it is to track down and view some of the very worst child sexual abuse material on the internet so it can be removed and blocked by IWF Members.
In one video seen by IWF analysts, a nine-year-old girl is instructed by adults over an online platform to insert her fingers into her vagina while in her bedroom surrounded by cuddly toys.
She is asked to perform "super dirty" dares over a webcam, and is interrupted when a presumed family member, who is oblivious to the abuse taking place, calls up to ask her to run a bath for her (presumed) little brother.
In another video, two 10-year-old boys are in a bedroom speaking to the camera. They are being told what to do by the viewer who tells them to perform oral sex on each other and to masturbate for the camera in return for some type of reward.
Another video shows a 10-year-old girl masturbating in a bathroom while being encouraged by online "followers". She is interrupted by her mother who storms in and confiscates the phone the abuse is being filmed on.
The sexual abuse in these videos was recorded by sexual predators and shared widely on the open web, with children being revictimised every time footage of the abuse is re-shared.
2022 has been a record-breaking year for the IWF, with analysts assessing more reports in total, and confirming more online child sexual abuse material than ever before.
Almost two thirds of the material analysts confirmed as child sexual abuse were of a child who had performed a sexual act in front of a camera-enabled device, often after having been coerced or groomed by a predator. The footage was then shared and spread widely on the open web.
National Police Chiefs' Council Lead for Child Protection and Abuse Investigations, Deputy Chief Constable Ian Critchley, said: "The work of the IWF is of such value to policing – it helps us to identify trends, understand offending, and support victims with the removal of this abhorrent material."
"The fight against online child sexual abuse will never stop and these most recent figures only serve to highlight the focus and priority that all of society must place on tackling these awful crimes, which can cause lifelong harm to children."
"The full impact of the pandemic on online offending may take years to fully understand, but we know that increased access to the internet, whilst a lifeline for many, allows exploitation by offenders. If you are engaged in this offending, we will find you. If you have concerns about your thoughts and behaviours online, seek help. Stop, before it's too late."
"We will continue to work with our stakeholders, who provide vital support and research in our fight to tackle those who prey on children online."
Today's data shows:
In 2022, the IWF investigated a total of 375,230 reports suspected to contain child sexual abuse imagery – an increase of 4% on 2021.
Of these, 255,580 reports were confirmed to contain images or videos of children suffering sexual abuse.
This compares to 2021, when the IWF investigated 361,060 reports, 252,000 of which were confirmed as containing child sexual abuse imagery.
In 2022, 199,360 of the URLs the IWF confirmed as child sexual abuse material contained images and videos made and/or shared via an internet connected device with a camera, as opposed to an abuser being physically present in the room with the victim/s. Often, a child has been groomed, coerced and encouraged by someone interacting with the child online. The amount of this material has increased nine per cent compared to 2021.
Parents are encouraged to follow the TALK checklist to make sure children are kept safe.
TALK to your child about online sexual abuse. Start the conversation – and listen to their concerns.
AGREE ground rules about the way you use technology as a family.
LEARN about the platforms and apps your child loves. Take an interest in their online life.
KNOW how to use tools, apps and settings that can help to keep your child safe online.
The UK Safer Internet Centre (UK SIC), of which the IWF is part, has free teaching toolkits which are available to schools.
ProjectEVOLVE resources have been written by a team of experts at the UK Safer Internet Centre. It's up to date, relevant, and engaging.
Source:Online sexual abuse of primary children 1000% worse since lockdown (iwf.org.uk)
Categories:
News