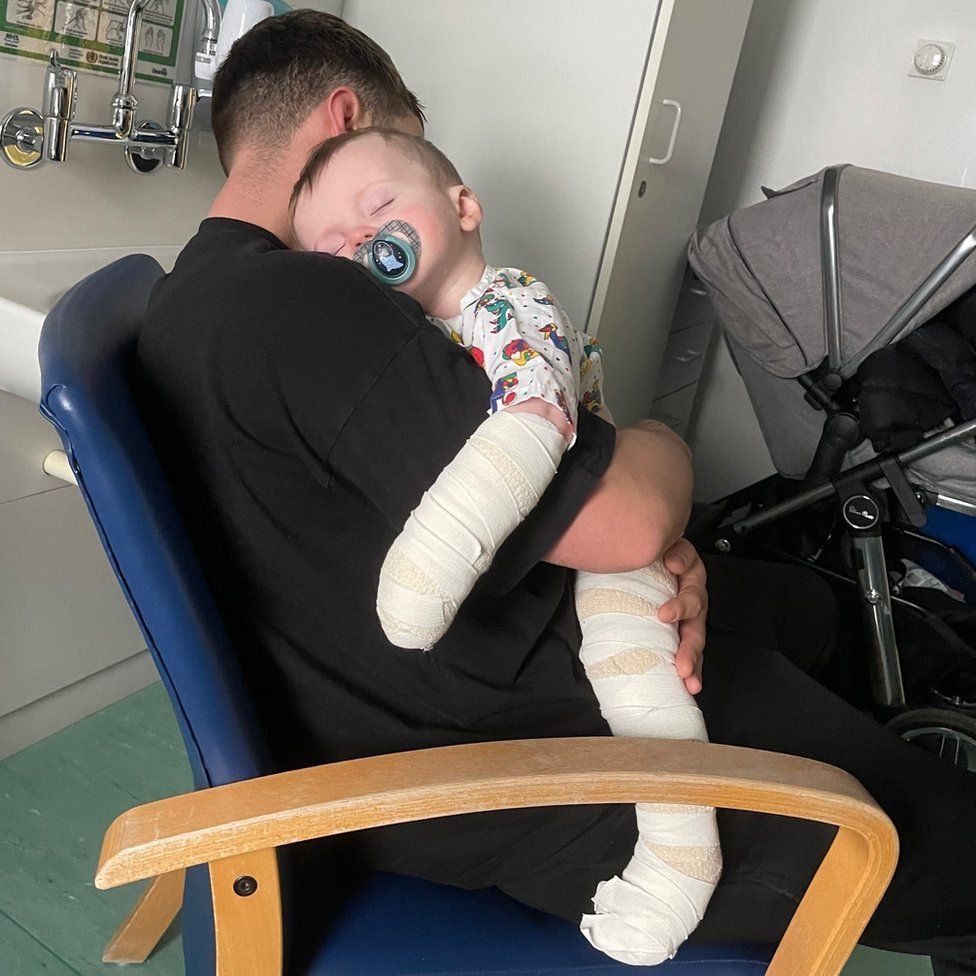 Nursery staff failed to call an ambulance when a 10-month-old boy was burned by a bucket of boiled water containing bleach, it has emerged.
Blake Nilssen was badly injured at Little Dreams Nursery in Aberdeen in November, and was taken to hospital after his parents were alerted.
The Care Inspectorate has upheld a complaint against the nursery, which now has new training in place.
Blake's family is considering legal action.
At the time of the incident, Blake was placed into cold water, and staff then placed wet paper towels over the affected areas of his body, but a blister was said to have come off with the paper towel.
The Care Inspectorate said nursery staff should not have covered his burns with wet paper towels, and that cling film should have been placed onto the wounds rather than wrapped around.
Mother Ellie Johnson said of arriving at the nursery: "We opened the door and heard the most horrific screaming.
"It was chilling. Then we realised it came from our little boy. There's no words to describe the fear we felt at that moment."
'Very serious incident'
The family said by the time they got Blake to Aberdeen Royal Infirmary for treatment more than an hour had elapsed.
"Blake is now on the road to recovery", his mother added. "His physical scars will likely be permanent."
Neil Davidson, of Digby Brown Solicitors in Aberdeen, said: "What happened to Blake is horrendous. We will do all we can to help this young family recover."
The Care Inspectorate said: "This was a distressing incident and our thoughts are with the child affected and their family.
"We have investigated and upheld a complaint in relation to this matter. We have identified areas for improvement which we will monitor closely and follow up to check progress and ensure these are implemented."
The nursery said in statement: "This was a very serious incident which was clearly deeply distressing for the child involved and the family.
"We take the safety of all the children in our care extremely seriously and whilst this was an isolated incident, we have fully investigated the causes. We reported the incident to the Care Inspectorate and worked with them to put in place new training and operational practices."
Source: BBC News
Categories:
News