13th July, 2021 11:59 am
Playing by the rules
By Katharine Freeland
12 July 2021
Mega sponsorship deals and money-spinning transfers are the bread and butter of sports law. But when governing bodies and clubs make headlines for the wrong reasons, lawyers have to pick up the pieces
Sport is an entertainment but also a lens through which we can observe many of society's less edifying characteristics – racism, sexism, bullying, homophobia, exploitation. Sports bodies have a huge responsibility to protect young players, ensure that what we watch is uncorrupted and check that financial dealings are above board. They must also safeguard the interests of their most invested stakeholders – the fans – and guarantee that these interests are not subverted by corporate opportunism. It almost goes without saying that lawyers are critical to that mission.
'Sporting bodies such as football or rugby clubs are, in corporate terms, usually small entities. But they have an outsize public impact,' says Chris Scott, senior partner and founder at Slateford, which specialises in reputation, crisis management and privacy. 'They are also considered to be community assets with an emotional contract with their stakeholders, unlike many other businesses.'
You could observe that impact through England's exploits at football's European championships. Nearly 21 million Britons watched England beat Germany. We witnessed how sport ignites passions not only in supporters, but also many who are not dedicated fans.
But behind the scenes, win or lose, there is a complex web of legal and governance fundamentals that make or break a sporting organisation's reputation: safeguarding, integrity, ethics, and diversity and inclusion, as well as other priorities such as nurturing the grassroots.
'The relentless public gaze is not just levelled at clubs but individual participants and their families, who need to be prepared for media shakedowns of social media posts, intrusion into their daily lives as well as trolling from the public,' points out Matt Himsworth, a former Schillings lawyer who runs B5 Consultancy, which works with sports and other businesses to identify reputation, privacy and other risks.
No wonder sports law is such a broad church – encompassing everything from private equity investment, brokering sponsorship deals, firefighting reputation-threatening exposés, to laying down the markers for effective governance and safeguarding.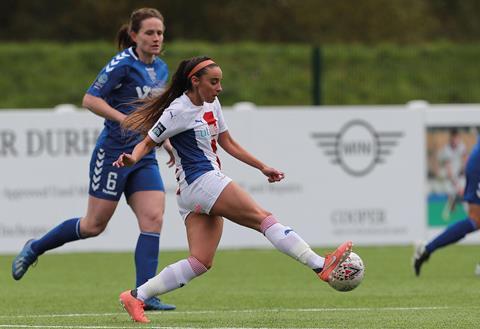 Reputation and risk management
The immediate and viral nature of social media means that an ill-judged tweet can spread around the world in seconds; witness recent controversies over cricketer Ollie Robinson, or footballer Jarrod Bowen. Our interconnected world also provides a means to access sporting personalities direct – opening them up to the risk of trolling and the mental health issues that such negativity brings. Crystal Palace footballer Leigh Nicol (pictured in white kit), for example, has been open about the impact on her mental health of an iCloud hack which leaked compromising photos online. She now works with sports consultancy B5 Consultancy, run by Matt Himsworth and ex-professional footballer Fraser Franks, to raise awareness and help players with their off-field development.
'We talk to players in professional clubs and academies as young as nine on critical topics such as how to promote a safe culture, practise risk-adverse behaviour online and educate them in social media use,' says Himsworth. The team is also rolling out its education programme to schools, individuals and companies outside the sports sector.
Crisis management continues to be in demand – as it is impossible to negate all risk. It can be mitigated by detailed due diligence though. Norwich City recently learned this to their cost when fans were outraged by the signing as a sponsor of online casino BK8, which promoted gambling and had used sexualised images of women in its marketing. The club has since dropped the company.
Bedrock of governance
In the wake of a series of global sports governance scandals – the most notorious being the accusations of corruption at FIFA under Sepp Blatter – in 2016 the UK introduced a Code for Sports Governance. This created a 'carrot and stick' approach by tying government and National Lottery funding to the achievement of targets for all UK-based sporting bodies. The code is currently in the process of being revised, with a greater emphasis on diversity and inclusion expected in the redraft.
'The code was devised and implemented very quickly,' says Kevin Carpenter, a senior lecturer in sports law at Manchester Metropolitan University, principal at Captivate Legal & Sports Solutions and adviser to Genius Sports Group on integrity. 'Although seeking to apply a proportionate approach through a tier system, the code can create onerous admin for smaller organisations with volunteers. Its focus is also currently more on compliance than changing culture, which may be dealt with in the update.'
The code emphasises the need for diversity at the level of decision-making, with a target of at least 30% female representation on boards, as well as greater transparency with regard to the financial structure and strategy of the organisation. Concurrent with the code, there is a drive to recruit former athletes to boards so that they can participate in decision-making on player welfare.
A recent report by Farrer & Co on 'Women in Sport' outlined the scale of the challenge.
'Gender diversity and good governance go hand in hand,' says sports law partner Tom Bruce in the report. 'A balanced board will be better at seeing both the risks and opportunities that face an organisation.'
There is a long way to go. The report found that of football's so-called 'Big Six' Premier League clubs (Manchester United, Manchester City, Liverpool, Arsenal, Tottenham Hotspur and Chelsea), only four board places out of 35 are occupied by women. Of the 24 clubs in the Championship, football's second tier, only six have a female board member (and five of those have only one woman).
But why pick on football? In cricket, no clubs have reached 20% female representation, while three have no women at all. In Premiership rugby union, seven clubs have no women, with only Exeter Chiefs reaching the 30% threshold (although there are no female directors of Exeter's holding company). By comparison, national governing bodies are way ahead, with 72% having met the 30% target compared with 3% of commercial clubs.
As well as encouraging gender diversity, the code gave boards more decision-making powers (rather than the traditional councils), and encouraged them to refresh and renew membership by reducing numbers and introducing limited terms of service.
'There can be an issue with board members in that they may have a great passion for and knowledge of the sport, but not necessarily the diverse background, skillset and decision-making capabilities that are required,' says Bruce. 'In smaller organisations this can be compounded by a lack of human and financial resources and the fact that many board members are volunteers. UK Sport, Sport England, the Sports Governance Academy and others are working hard to raise awareness of these issues and create opportunities for board recruitment.'
Gender diversity and good governance go hand in hand. A balanced board will be better at seeing the risks and opportunities that face an organisation

Tom Bruce, Farrer & Co
The outcry at the formation of football's dramatically aborted European Super League lays bare the tension between corporate interests that seek to monetise assets, and the genuine love of sport felt by fans. This was not the first such breakaway model – the Professional Golfers' Association Tour, the organiser of professional golf tours played by men in the US and North America, faced the emergence of a new competitor last year, the Premier Golf League (PGL). Scheduled to launch in January 2022, the PGL is backed by New York private equity firm The Raine Group, with rumoured investor funding from Saudi Arabia. It plans to recruit 48 of the world's leading golfers to play an eight-month season, with 10 events scheduled across the US.
Jon Walters is a founding partner at Northridge, which advises not just sports bodies but also private equity firms and technology enterprises on their interface with sport. 'There is a long history of breakaway competitions, from cricket in the 1970s to the Premier League backed by Sky in the 1990s,' he says. 'The disruption driven by investment firms poses constant challenges to the current status quo.'
Indeed – older readers might recall how Australian media entrepreneur Kerry Packer's World Series Cricket caused as much of a stir in the late-1970s as football's European Super League now. We have Packer to thank for coloured clothing, floodlit day-night matches, white balls and drop-in pitches.
Today, private equity firms are increasingly investing in sport, capitalising on the opportunities that digital media creates to reach multitudes of fans. In 2019 Silver Lake, a Silicon Valley-based private equity firm that specialises in technology investments, invested $500m in a minority stake in the City Football Group, which is controlled by a member of Abu Dhabi's royal family and owns Manchester City. US firm Liberty Media Corp bought the Formula One racing championship in 2016, while CVC Capital Partners bought a minority stake in professional rugby competition Premiership Rugby in 2018.
The job of lawyers drawing up commercial contracts between private equity investors and sporting bodies is increasingly nuanced. 'Although it might seem sensible to leave the sporting decisions to the club, and the commercial decisions to the investor, the situation calls for delicate negotiations to balance the sporting and commercial factors,' says Walters. 'For example, the question of how many games should be played is a tricky one in which all the stakeholders' interests, including the fans, must be considered.'
In the midst of the spectacular U-turn over football's European Super League, there were calls for a UK club ownership model that mirrors the system in Germany. This is the 50+1 rule, which is designed to prevent investors from having decision-making power. Under 50+1, German football clubs can spin off their professional players' departments as a corporation to attract investment, but only if the parent club association holds more than 50% of the voting shares. There is an exemption by which clubs can avoid the 50+1 rule, which was recently criticised in a preliminary assessment by Germany's Federal Cartel Office, which rules on matters of competition law. It should be acknowledged too that the rule is not universally popular with supporters: Germany's Bundesliga lags far behind England's Premier League in terms of global reach and financial clout. Billionaire owners can afford the world's best players.
Safeguarding is the biggest threat to sport worldwide. Safeguarding should be at the top of every sports organisation's risk assessment list

Kevin Carpenter, Manchester Metropolitan University
Safeguarding and duty of care
Of course, it is not just the fans' interests that have to be considered – but also the players, especially young people making their mark in their chosen sport.
'Safeguarding is the biggest threat to sport worldwide,' emphasises Carpenter, pointing to scandals not just in the US (Larry Nassar in athletics) and UK (Barry Bennell in football) but in Korea, Australia, Japan and elsewhere. 'If there is just one issue that sports bodies invest in, it should be this one. Safeguarding should be at the top of every sports organisation's risk assessment list,' he says.
The UK has made progress on safeguarding since the child protection scandals of the 1990s, which hit the news again this year after an inquiry led by Clive Sheldon QC found the FA culpable of 'institutional failure' over its delay in introducing safeguarding in the late 1990s. This came after the actions of Bennell and other abusers entered the public domain, with the perpetrators prosecuted and convicted.
The introduction in 2001 of The Child Protection in Sport Unit was a significant step forward. The unit, a partnership between the NSPCC, Sport England, Sport Northern Ireland and Sport Wales, works with UK sports councils, national governing bodies and others to minimise the risk of child abuse during sporting activities.
Responsibility for safeguarding has to come from the top. 'You need someone on the board ingraining safeguarding culture,' says Richard Bush, a sports law partner at Bird & Bird. 'It is essential that the safeguarding lead holds a senior position within the organisation.'
There are calls to go further. In her 2017 Duty of Care in Sport review, Paralympic champion Baroness Grey-Thompson made a strong case for the establishment of an independent and accessible sports ombudsman which could provide oversight and redress for dispute resolution in UK sport. The idea re-entered the media spotlight in 2020 when British Gymnastics chief executive Jane Allen backed the creation of an independent sports ombudsman, after a scandal rocked the sport over allegations that gymnasts had been bullied, beaten and starved. 'Sport should not police itself,' she said.
Integrity in sport
One does not have to think hard to recall a sports doping scandal: from Lance Armstrong in cycling; to state-sponsored Russian doping in the Olympics which resulted in a four-year ban for Russia from the World Anti-Doping Agency, a punishment cut to two years by the Court of Arbitration for Sport in 2020. Equally, match-fixing (a lucrative modus operandi of organised crime) is a constant threat in many sports. Even the genteel world of badminton has suffered: in 2018 the Badminton World Federation issued suspensions of 15 and 20 years to two Malaysian players for fixing matches during various 2013 tournaments.
'Integrity in sport means that when you watch a competition, whether in the stadium or at home on the television, you believe that what is taking place is real, that the match is not fixed or that the athletes are not taking performance-enhancing drugs,' explains Walters.
Many sports have now created integrity units that handle testing, compliance, investigations, intelligence, case management, communications and education. A case in point is the Athletics Integrity Unit set up in 2017, which works independently of international governing body World Athletics with authority to oversee the sport's 'integrity issues'.
Sporting organisations, especially large ones, are acutely conscious that all of their activities take place in the public eye, and fans are emotionally invested in the results. 'There is room for public education in the nexus between sport and criminal law,' says Carpenter. 'Supporters do not always understand the nuances of what is happening. A betting offence is not match fixing, for example.'
There is also the discrete question of ethics, often dealt with by an Ethics Code. This is a different issue from integrity, as ethics codes govern the personal conduct of individuals in sport such as 'treating other players as they deserve to be treated' and 'no bullying'.
Integrity in sport means that when you watch a competition, you believe that what is taking place is real, that the match is not fixed or that the athletes are not taking performance-enhancing drugs

Jon Walters, Northridge
Governance is getting better
There is no doubt that governance of the UK sports sector is much better than it was 20 years ago, with the code providing a financial incentive to reform and many organisations aspiring to be 'best-in-class' on the critical issues of the day – safeguarding and duty of care, diversity and inclusion, integrity and ethics.
Yet sport has an uncontrollable element. Powerful stars can super-charge sales of a product with a single tweet, or send share prices crashing.
'The current focuses in sport reflect wider cultural change,' says Daniel Lowen, a sports lawyer at Level Law specialising in the football industry. 'Sport is also a unique sector where passions run high among both fans and participants, creating a melting pot of issues unlike any other area.'
Source – Playing by the rules | Feature | Law Gazette
Katharine Freeland is a freelance journalist
Categorised in: News