31st March, 2021 8:41 am
The problem of sexual violence and abuse is not just an issue for schools to tackle, say head teachers.
Social media companies, parents and the criminal justice system all have a role to play, says the school leaders' union, ASCL.
ASCL boss Geoff Barton says schools work very hard in this area and take these matters extremely seriously.
His comments come as the website Everyone's Invited records over 10,000 testimonies of abuse from youngsters.
The website was set up last year as a place where victims can post anonymous accounts of abuse they have suffered.
Many of the accounts describe allegations of sexual harassment and sexual violence carried out against young women by young men who are at school, college or university with them, or part of the same social groups.
'Abhorrent'
England's Education Secretary Gavin Williamson has described the allegations on the website as "shocking and abhorrent" and has pledged to take "appropriate action".
And children's charities are calling for the government to issue better guidance to schools and colleges to tackle the problem.
But school leaders warn that the problem of sexual violence is a societal issue and cannot solely be left to schools and teachers to address.
"Media reporting of these testimonies has focused on the role of schools," says Mr Barton.
"In fact, these testimonies involve young people, in schools and universities, in a wide variety of circumstances, often outside school premises in settings such as parties.
"This is not to minimise the vital responsibility of schools in tackling sexual violence and sexual harassment, and instilling good values in young people and respect for one another."
But this is "a wider issue than what happens in schools", he warns.
"Parents have a responsibility to talk to their children about how they behave towards others. Social media companies have a responsibility to take more care about how their platforms are used. The criminal justice system has a responsibility to show young people that it can be trusted to prosecute and bring to justice sexual offenders."
Mr Barton also urged young people who had reported sexual offences against them on Everyone's Invited to tell the police.
Schools 'not doing enough'
However, the Children's Society says schools are not doing enough and calls on ministers to educate school staff, parents, pupils and support services on how better to address abuse in schools.
Policy manager Iryna Pona said: "Young people consistently raise with us the issue of sexual harassment at school and that schools are often not doing enough to tackle it or support victims.
"Where young people are acting in sexually harmful ways it's vital that this behaviour is addressed early through specialist support to prevent it escalating into crimes.
"Yet all too often no action is taken by schools or social services until a serious offence, such as rape, is committed."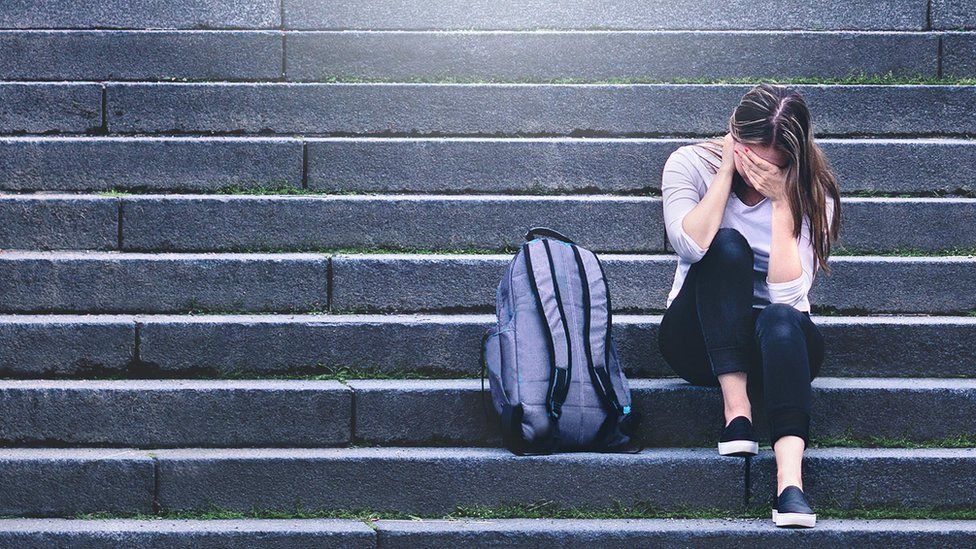 Barnardo's is calling for a review of the existing guidance for schools and colleges on how to address routine sexual harassment and abuse.
Chief executive Javed Khan said he was "deeply concerned" at recent reports, saying they were "just the tip of the iceberg".
"We know that at least a third of identified sexual abuse against under-18s is committed by other children and young people. We also know that much of this abuse goes unreported."
Influence of pornography
According to Chief Constable Simon Bailey, who oversees child protection for the National Police Chiefs' Council, the problem has been partly fuelled by "easy access to pornography".

"There's an erosion of an understanding of what normal sexual relationships look like," he said and urged parents and schools to speak to children about pornography, and tell them it's "not real".

His view is backed by Dr Elena Martellozzo, associate professor of criminology at Middlesex University, who says children as young as 11 are exposed to porn.

Dr Martellozzo told BBC Radio 4 that pornography was "very much accessible" on the internet.

"They can come across porn through pop-ups as much as actively seeking it or being shown it," she said.

"I would say it's harder to avoid online pornography than to seek it. This is not the start of a healthy sexual relationship."

The government had planned to introduce age checks to stop anyone under 18 accessing pornography, but the plans were eventually dropped over concerns about their effectiveness.

Margot James, who was digital minister when the plans were being drawn up, said that while the checks could never be completely effective, they were designed to "deter and reduce access to pornography among young people".

She said internet platforms should be regulated more broadly.

"There's a lot more we should be doing," she said.

Source: BBC News

Tags: everyone's invited, rape culture, schools, sexual abuse


Categorised in: News